60/2 60s/2 100% Spun Polyester Sewing Threads
60/2 60s/2 Spun Polyester Sewing Thread
60/2 60s/2 100% Spun Polyester Sewing Thread
All available count: 15/2, 20/2, 20/3, 20/6, 30/2, 30/3, 40/2, 40/3, 50/2, 50/3, 60/2, 60/3, etc.
Packing: 1000yds to 20000yds/cone, or 0.5kg to 2kg/cone
MOQ: 1Ton
Loading port: Ningbo, Shanghai
Delivery time: 25-35days
Payment terms: T/T, Western Union, L/C
Can be used in many different applications and in a wide range of fabrics from delicate silks to robust denim and high-tech performance materials; at all times ensuring excellent stitch formation and good-looking seam appearance.
60S/2 used for light knitted wear, like the T-shirt, silk garment, handkerchief, etc.
Why choose MH polyester sewing thread:
1. Good tensile strength
2. Smooth surface and absence of faults
3. Uniform thickness / diameter
4. Good elasticity
5. Good color fastness
6. Low shrinkage
7. Good chemical resistance
8. Good abrasion resistance
Our products include various kinds of threads, like spun polyester sewing thread, corespun polyester sewing thread, eco-friendly recycled polyester sewing thread, waterproof sewing thread, anti-UV sewing thread, cotton sewing thread, nylon bonded thread, embroidery thread, polyester textured yarn, metallic yarn, fishing twine, etc. available in different sizes and specifications to meet all customers' needs.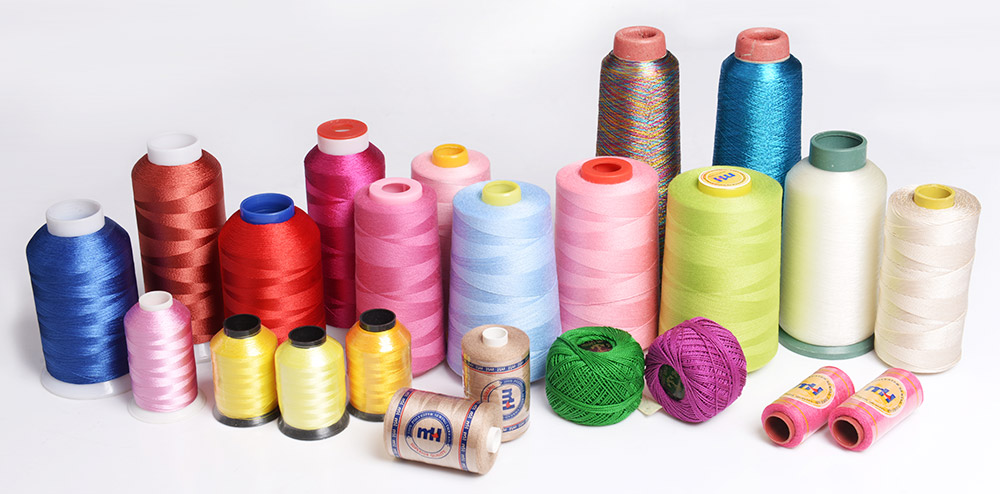 Color Cards are made with actual thread samples so you have a perfect color match to choose the desired thread.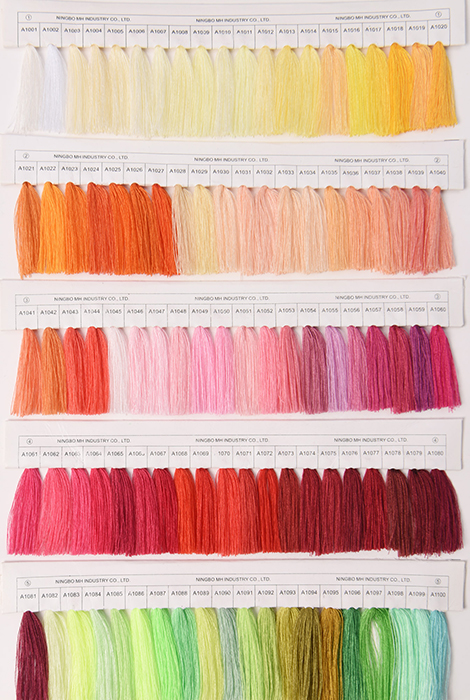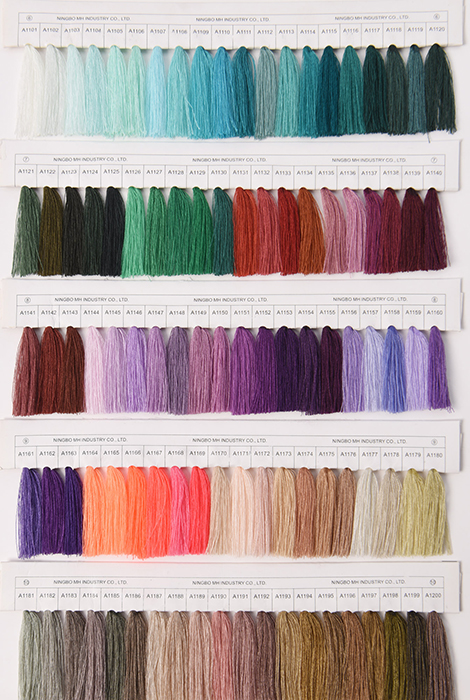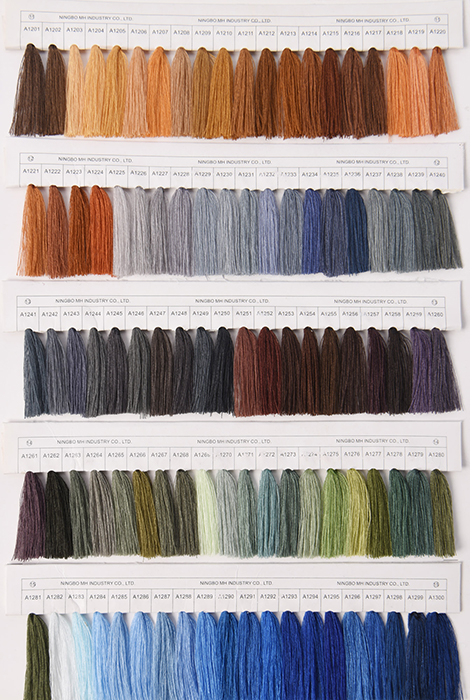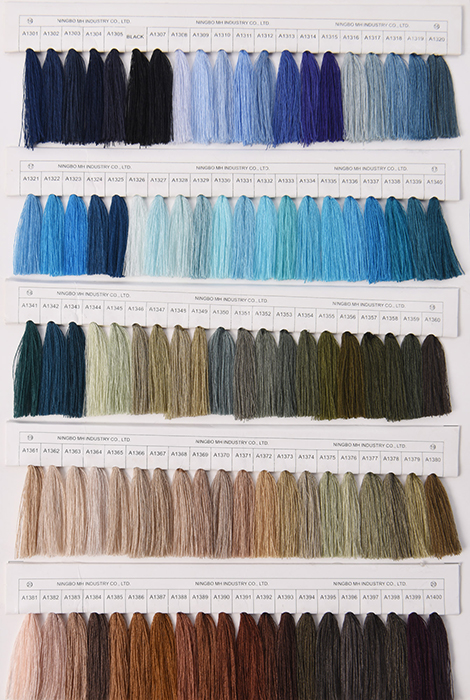 Packing: 12cones/box, 10boxes/carton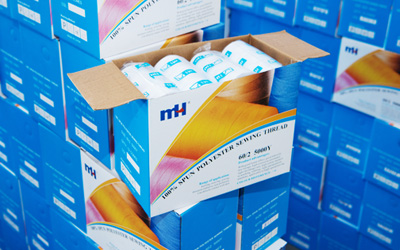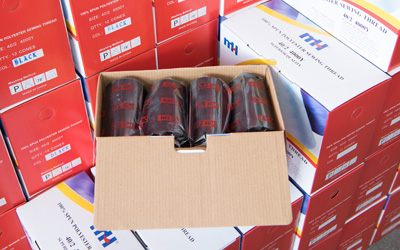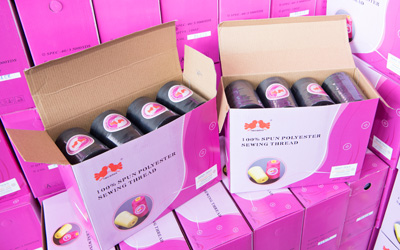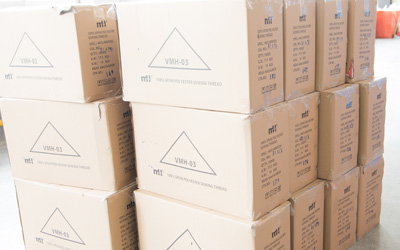 Applications
20S/2~30S/3 mostly used for thick garments like jeans, thick winter clothing.
30S/2, 40S/2, 50S/3, 60S/3 mostly used for garments and home textiles, like shirts, blouses, jackets, children's apparel, dresses, underwear, sports, bed covering, curtain, etc.
50S/2, 60S/2 used for light knitted wear, like T-shirt, silk garment, handkerchief, etc.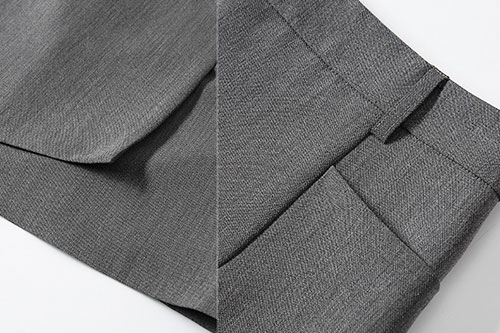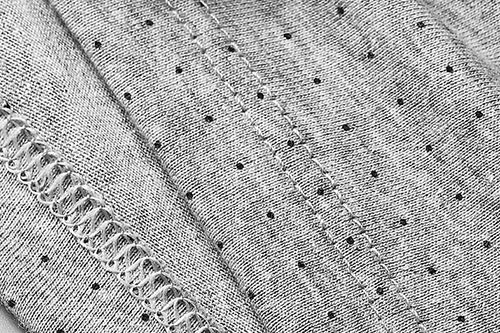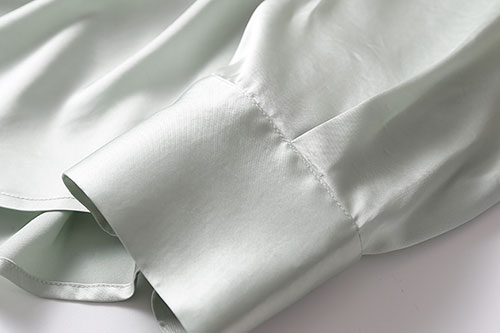 MH has certificates of ISO 9001:2015, ISO14001:2015, ISO18001:2007 and OEKO-TEX standard 100 Annex 6 Class 1
MH has three industry zones for thread factories, with 220,000m2 plant area and 1100 workers, equipped with high-standard machines and strict manufacturing management system
With annual producing capacity 30000+ tons, that means about 2000x40'HQ per year.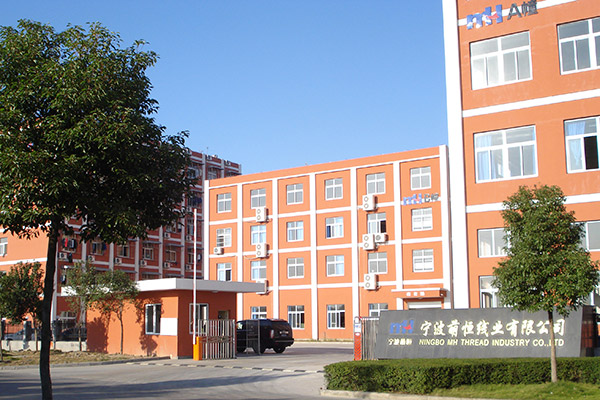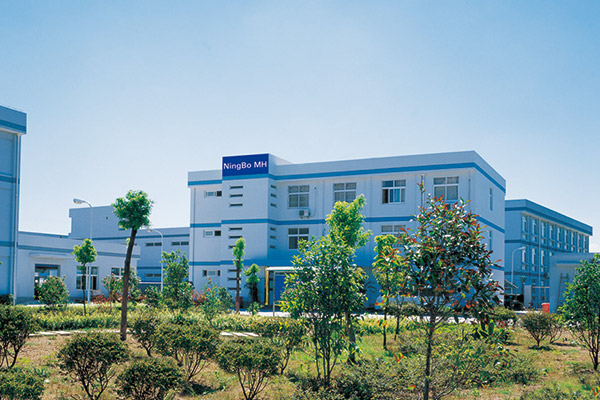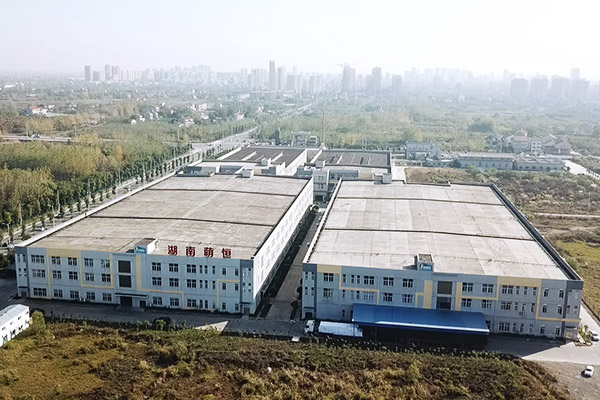 Automatic Dispensing System: Low chromatic aberration, high level of color fastness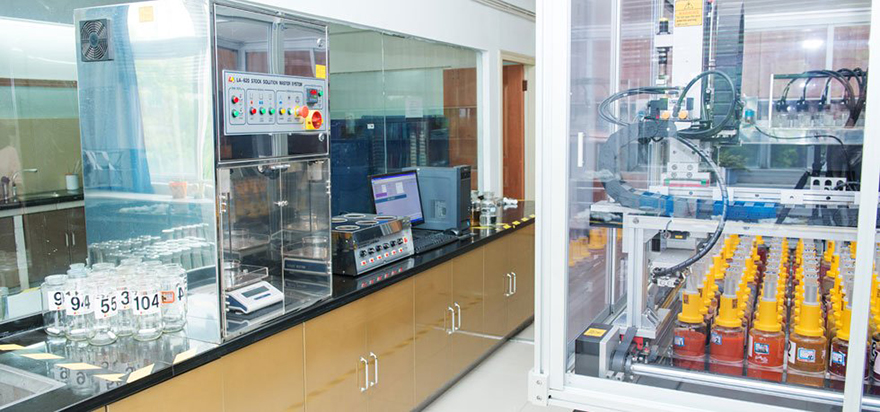 Dyeing and Drying: During the dyeing and drying process, we not only care about color matching and color fastness, also we care about dyed yarn spindle shape which will effect thread rewinding quality. As the suitable yarn spindle shape will reduce the breakage rate during rewinding.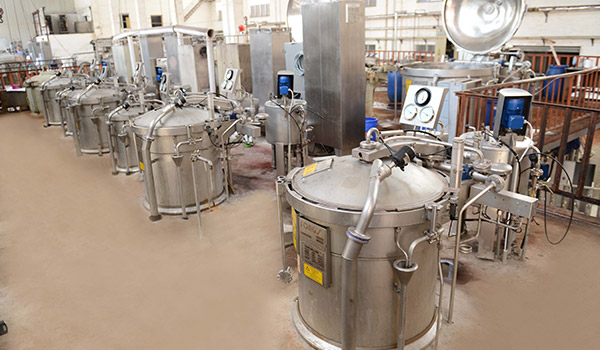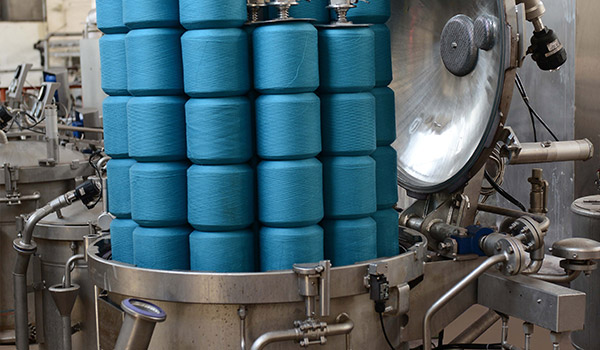 Sewage Treatment Center: Green manufacturing, the advanced sewage treatment center and water recycling system are committed to acting in energy saving, environmental protection.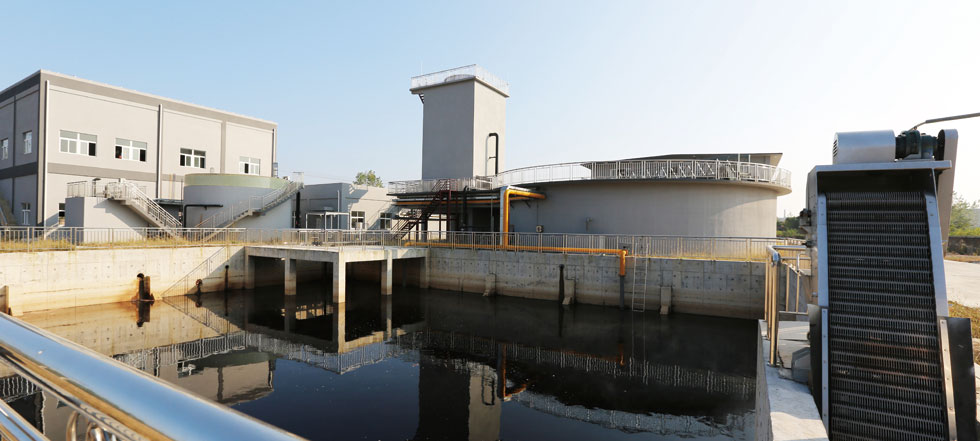 SSM TK2-20CT High-speed Precision Winding Machines: Not only ensure the thread cone in good shape with suitable tension, and has no deformation during transportation, but also has an excellent performance in length and oil uniformity.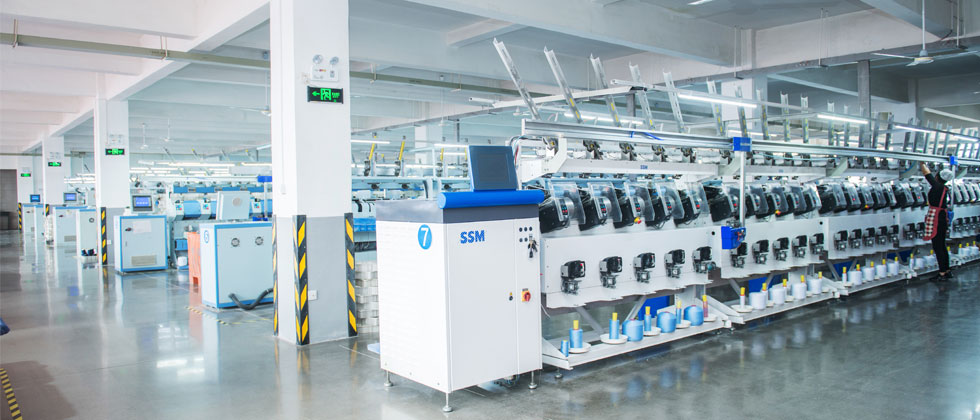 Automatic Packaging Machine: it keeps the sewing thread in nice and neat shape, and the sticker will be exactly in the same place without slanting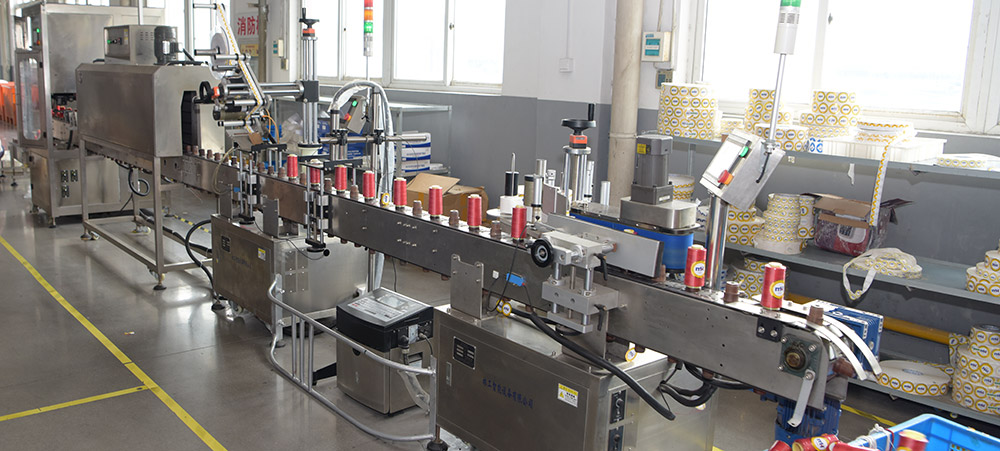 About Ningbo MH
Ningbo MH was established in 1999, specialized in garment accessories and tailoring materials.
At present, MH owns nine factories located in 3 industry zones, with 382,000m2 plant area and 1900 workers, producing polyester sewing thread, embroidery thread, lace and embroidery, ribbon & tape.
MH also set up long-term cooperation with 1500 manufacturers for 10000 different kinds of tailor's material and fabric.