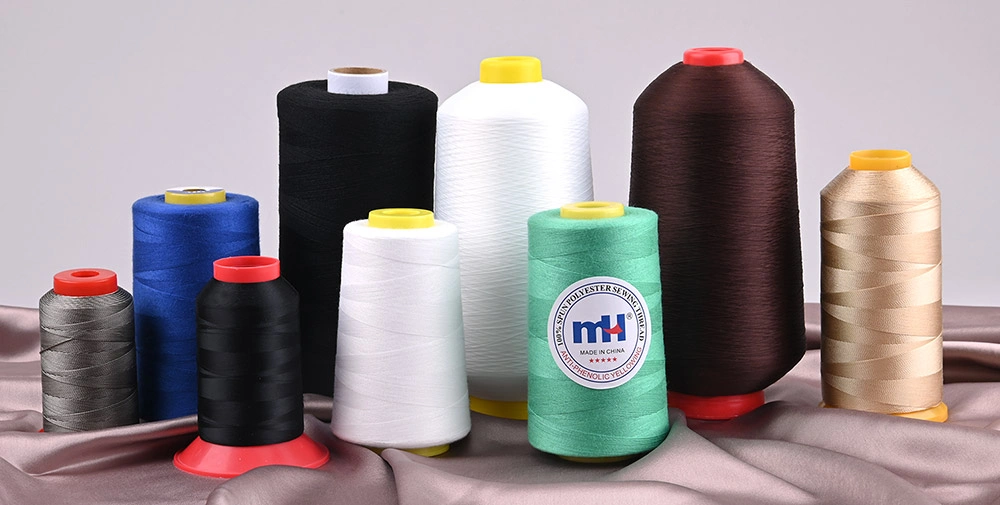 MH sewing thread includes: spun polyester sewing thread, polyester/polyester core sewing thread, cotton/polyester core sewing thread, polyester texture yarn, spun polyester bag closing thread, 100% polyester high tenacity thread, nylon high tenacity thread, 100% nylon bond thread, Waterproof sewing thread.
Main types of polyester thread
Spun polyester threads are made by spinning or twisting together shorter lengths of polyester fibers. It is very smooth and strong for using on lightweight apparels such as suit, shirt, dress, jeans, underwear and etc.
Corespun polyester threads are a combination of a filament polyester core thread wrapped in spun polyester, it is also known as poly-poly core or poly-cotton core sewing thread. Widely used for denim, thin knit, suits, formal wear, industrial sewing, etc.
Bonded 100% polyester thread is made from a corded thread, a high strength resilient and continuous filament polyester, bonded polyester is a strong polyester thread used for upholstery applications.